Optimizing Immersive Video Quality-of-Experience (QoE)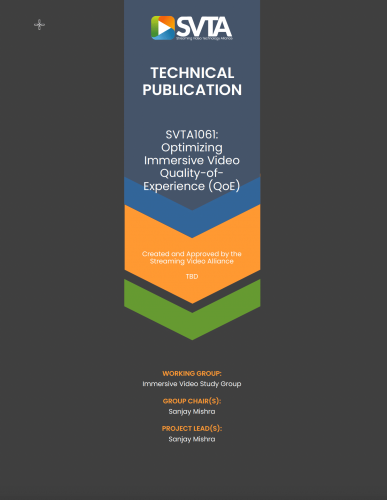 Please note that this is a DRAFT document. As such, details may change prior to publication. Also, the button links to the current draft document housed in the STVA member portal. Clicking on the button will open the portal which will require you to login with valid credentials of a participating member company.
Estimated Publication Date
Get Notified About Publication
If you would like to be notified when this document has been published and is available for download, just enter your details below.
"*" indicates required fields
Virtual Reality (VR), and other forms of Extended Reality (XR), are beginning to drive deep immersive experiences for premium entertainment and sports content. VR content imposes heavy bandwidth requirements on the network for a sustained throughput on an acceptable rate throughout the video playback session. The challenge however is that the available capacity along a delivery path may not be available in a manner to keep up the sustained throughput throughout the session and along the delivery path. This paper examines challenges along the delivery path and specifically provides for choices to manage congestion control at the last mile to allow for optimal delivery of immersive video.
The following members are the working group chairs who oversaw this document and are reflected on the document itself. Note: these members may or may not be the current working group chairs.

The following members lead the development of this document:
The following members have contributed to the development of this document. Note: for draft documents, this list may change prior to publication.