Below is a list of all the SVTA documents. The "Stage" refers to the current step of the ratification process for a draft document. Click on a document title to open the relevant document page where you can download it and find out more information. Note that for draft SVTA documents, you will need to have credentials for the SVTA's intranet, ARO.
SVA Document Search and Filter
Check the boxes of the filters you want to use. Uncheck them to clear them. Enter any text into the search field (results will refresh as you type).
Stage 1. Member and public comment window. 30 days for members and approved non-members to review the document and vote to progress it forward.
Stage 2. Board review. 30 days for the board to review, provide feedback, and vote to move forward.
Stage 3. Member ratification. Final member vote to approve the document, as is, for publication.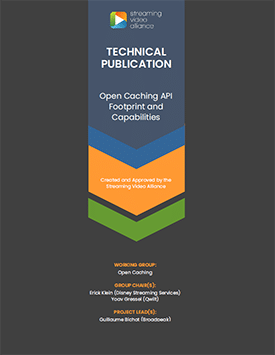 Open Caching
Project Completed
(DRAFT) Open Caching API Footprint and Capabilities
Draft
Open Caching
Project Completed
(DRAFT) Open Caching API Implementation Guidelines
Draft
Networking and Transport
Project Completed
5G and the Edge Cloud for Streaming Video
Published
Advertising
Project Completed
All Coming Together: A Collaborative Effort to Achieve Comprehensive End-to-End Monitoring
Published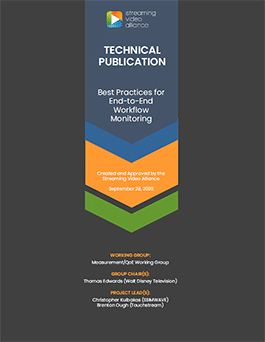 Measurement/QoE
Project Completed
Best Practices for End-to-End Workflow Monitoring
Published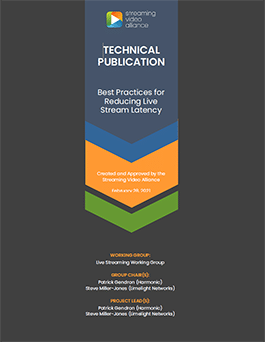 Live Streaming
Project Completed
Best Practices for Reducing Live Streaming Latency
Published
None
Project Completed
Tech Brief: CMAF
Published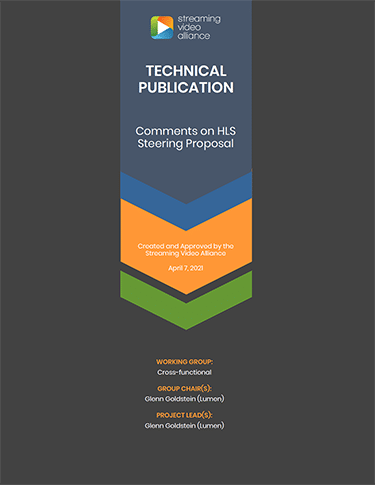 None
Project Completed
Comments on HLS Steering Proposal
Published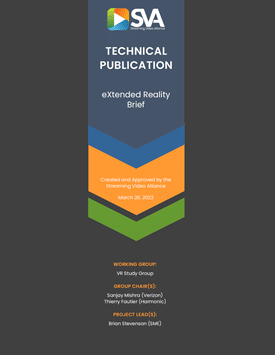 Immersive Video
Project Completed
eXtended Reality (XR) Market Landscape
Published
Privacy and Protection
Project Completed
Forensic Watermarking Implementation Considerations for Streaming Media
Published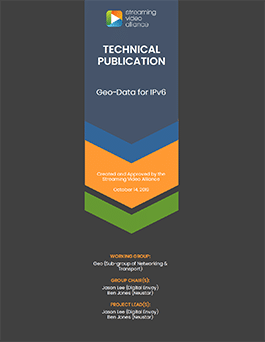 Geo
Project Completed
Geo-Data for IPv6
Published
Edge Storage
Project Completed
Home Storage Functional Specification
Published
Advertising
Project Completed
Improved Quality of Service (QoS) For Advertisement Delivery Across OTT: Best Practices
Published
Measurement/QoE
Project Completed
Key Network Delivery Metrics
Published
Metadata
Project Completed
Metadata Landscape
Published
None
Project Completed
Mobile Video: Exposed
Archive
Open Caching
Project Completed
Open Cache Logging Requirements Specification
Published
Open Caching
Project Completed
Open Cache Request Routing Functional Specification
Published
Open Caching
Project Completed
Open Cache Request Routing Functional Specification (Version 2.0)
Published
Open Caching
Project Completed
Open Cache Request Routing Service Provisioning Interface Specification
Published
Open Caching
Project Completed
Open Cache Solution Functional Requirements Document
Published
Open Caching Configuration Interface: Part 1 – Overview and Architecture
Published
Open Caching Configuration Interface: Part 2 – Extensions to the CDNi Metadata Object Model
Published
Open Caching Configuration Interface: Part 3 – Publishing Layer APIs
Published
Open Caching
Project Completed
Open Caching Content Management Operations Specification
Published
Open Caching
Project Completed
Open Caching Logging Integration Functional Specification
Published
Open Caching
Project Completed
Open Caching Relayed Token Authentication
Published
Open Caching
Project Completed
Optimizing Video Delivery With The Open Caching Network
Published
Networking and Transport
Project Completed
QUIC Tech Brief
Published
Privacy and Protection
Project Completed
Securing Streaming Video
Published
Immersive Video
Project Completed
The State of VR/360-Degree Video
Published
Networking and Transport
Project Completed
The Viability of Multicast ABR in Future Streaming Architectures
Published