Unlike traditional linear television, online video streaming provides a unique opportunity for content owners and distributors to know specific details about the location of their audiences, which is especially relevant as users consume more video from mobile devices. Unfortunately, technology and video streaming service providers have little guidance on how to expose and ultimately leverage this kind of location-based or geographic information. In this working group, participating members are focused on identifying how geo data should be captured and used while providing guidance on the implementation of geo-related services in online video streaming.
The Streaming Video Alliance Geo Working Group has four primary objectives. First, to identify specifications for local market ad insertion; second, to identify geographical streaming permissions and restrictions; third, to define content-provider regional licensing models; and fourth, to improve IPv6 geo-location.
This group does not have any current projects.
This group has not initiated or completed any proofs of concept.
Below are presentations delivered during working group sessions. Click on the presentation name to open it (many files are for members only and will require authentication) and a presenter name to view their profile. Note: if a presenter's profile is not public, it will redirect to their LinkedIn page.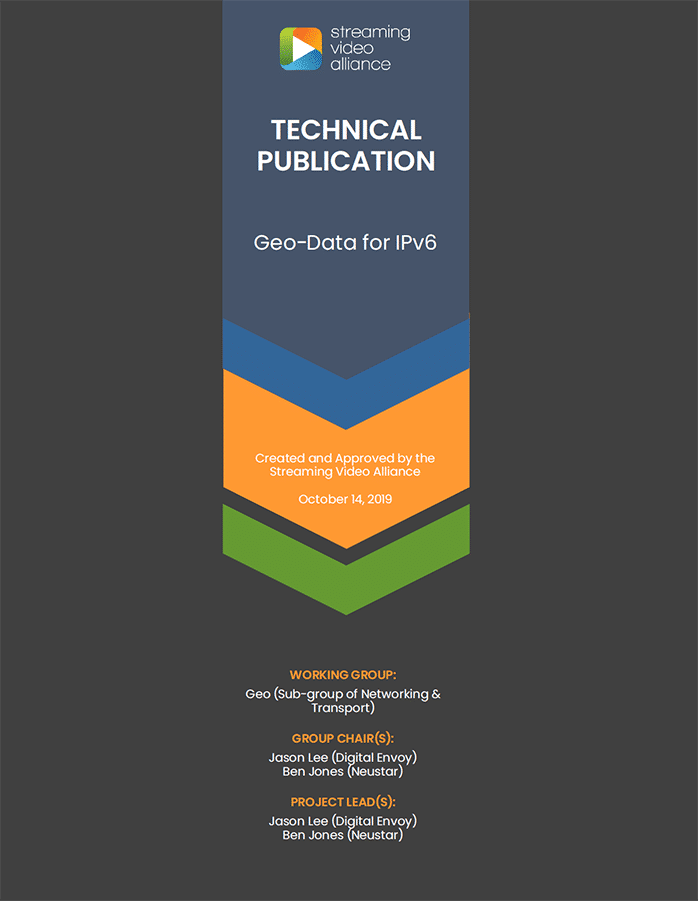 Geo-Data for IPv6
There are many different approaches to associating attributes to an IP address and many different attributes that can apply. There are also several different approaches to delivering that data. This document will focus on attributes that fall into three categories: Identity, Service, and Location. Identity can include a user's name, the upstream service provider, an enterprise network, university, or department. Services can include attributes such as a W-Fi network, cable, wireless, infrastructure, and enterprise. Finally, location attributes can identify city, state, zip codes, country, region, or geocodes. A collection of attributes would form objects with their associated values, and these objects can be related to an individual IP address or a range of addresses to create an IP addressing object. These IP address objects can also be tied to an IP address object in a parent child relationship to provide as much detail as desired by the source. This document provides a JSON object model and schema to represent how those attributes can be tied to an IP address in a common format for controlling the access to streaming video using geo-location data for IPv4 and IPv6 addressing.
Note: access controls, privacy, and the management of privileged information (PII) will not be defined here and will be left to other efforts.
Note that to download draft documents, you must be an employee of an active member company with an ARO account. If you are part of a member company and don't yet have an ARO account, you can request one here.
This group does not currently have any draft documents.