Although many in the streaming video industry would say that "we have VOD figured out," live linear streaming is a completely different animal. Plagued by a host of challenges ranging from scaling, to ad insertion, to "time behind live," to multi-platform distribution, content providers are feverishly trying to provide a solution for their viewers that either closely mimics traditional broadcast or, in some ways, even exceeds it. And in many cases, this may require interface with traditional broadcast standards, such as SCTE, which have never been applied to a streaming environment. In this working group, participating members work to tackle those challenges with specifications and best practices that address how to provide a high-quality live stream to a global audience.
The Streaming Video Technology Alliance Live Streaming Working Group has the following objectives: to define and propose industry best practices that address the technical challenges impeding the adoption and implementation of Adaptive Streaming of live content; leverage existing protocols and/or functionalities in building solutions for a host of topics including source-to-consumer latency, efficient and effective methods for large audience distribution, and interoperability standards and PoC implementations for OTA/OTT simulcast experiences; to collaborate with other working groups, like Open Caching and Network and Transport, to ensure alignment with technical activities.
Below are presentations delivered during working group sessions. Click on the presentation name to open it (many files are for members only and will require authentication) and a presenter name to view their profile. Note: if a presenter's profile is not public, it will redirect to their LinkedIn page.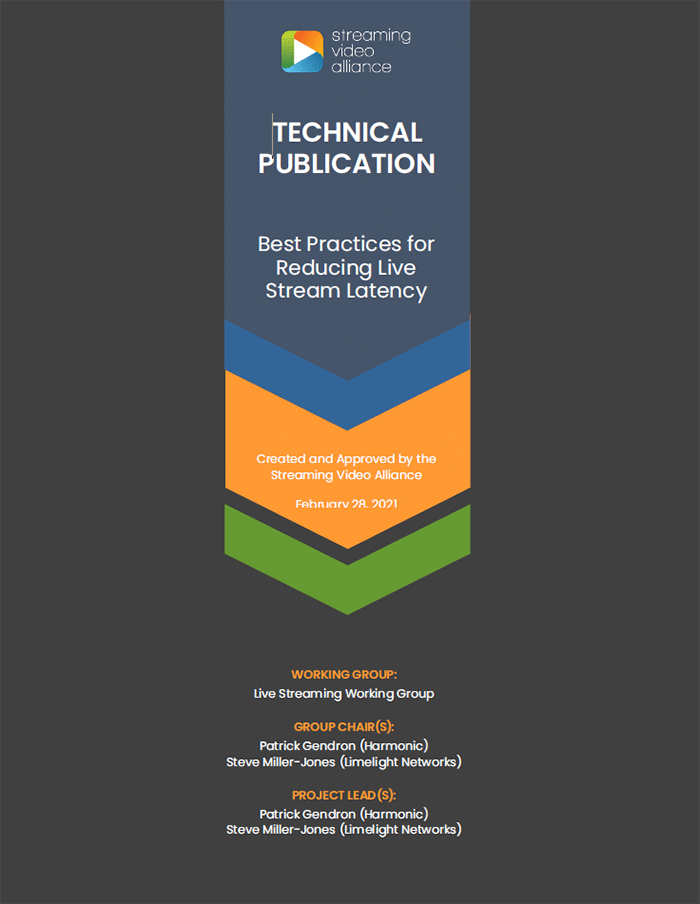 SVTA5021: Best Practices for Reducing Live Streaming Latency
Over-the-Top (OTT) video streaming is accelerating towards a tipping point where broadcasters are simulcasting their content to both OTT and traditional broadcast customers. This has raised concern with the latency delta between broadcast and OTT streams. In addition, new OTT use cases have emerged that demand the lowest possible latency. This paper explores techniques available to streaming video distributors to reduce the latency of their streaming content from encoder to screen.
Note that to download draft documents, you must be an employee of an active member company with an ARO account. If you are part of a member company and don't yet have an ARO account, you can request one here.
This group does not currently have any draft documents.