The television viewing experience is transitioning from traditional linear broadcast to online streaming video making it critical for content owners and distributors to migrate elements of their existing business models (like ad insertion) to the new method of delivery. How should distributors insert ads when consumers are watching video on mobile devices? What is the best way to implement ad parity between broadcast and online? How is the quality of a video ad determined? In this working group, participating members work to answer those questions by translating critical functional elements from broadcast to online, and establishing clear best practices for how the resulting technology can be implemented.
The Streaming Video Technology Alliance Advertising Working Group has one primary objective: to define and develop best practices around the integration and operational processes for ad-supported streaming services in both on-demand and live video.
Below are presentations delivered during working group sessions. Click on the presentation name to open it (many files are for members only and will require authentication) and a presenter name to view their profile. Note: if a presenter's profile is not public, it will redirect to their LinkedIn page.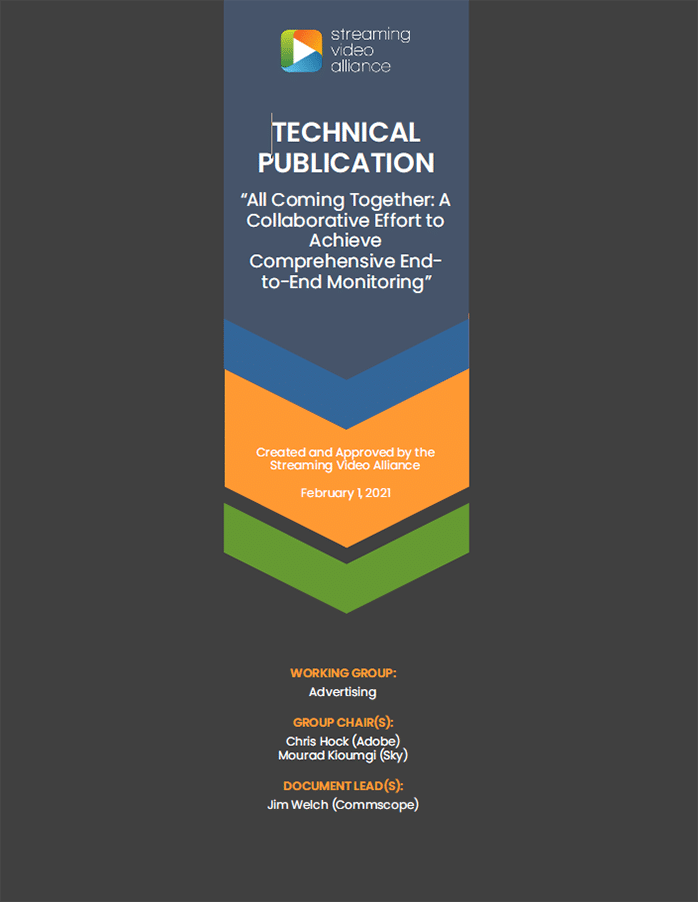 SVTA 5020: All Coming Together: A Collaborative Effort to Achieve Comprehensive End-to-End Monitoring
This paper, originally published in SCTE-ISBE Journal of Digital Video, Vol 5, No 1, December 2020, outlines a collaborative integration of manifest delivery, analytics, quality metrics, visual dashboard, and reporting methods while highlighting several demonstration use-cases. This proof-of-concept study will prove helpful for ad operations teams to enable a reliable Quality of Service (QoS) across streaming devices while validating advertiser's investments.
SVTA5011: Improved Quality of Service (QoS) For Advertisement Delivery Across OTT: Best Practices
Advertisement insertion into OTT streams is a critical part of the overall user experience. Breakdowns in services or delivery can have a detrimental impact on viewer churn. To provide users with the best possible Quality of Experience (QoE), content publishers must take into account the advertising workflow with regards to quality, duration, delivery, and failure. The best practices presented in this paper, developed by a number of contributing companies in the Streaming Video Alliance's Advertising Working Group, address a myriad of considerations for any OTT service provider that is considering the inclusion of advertising in their offering.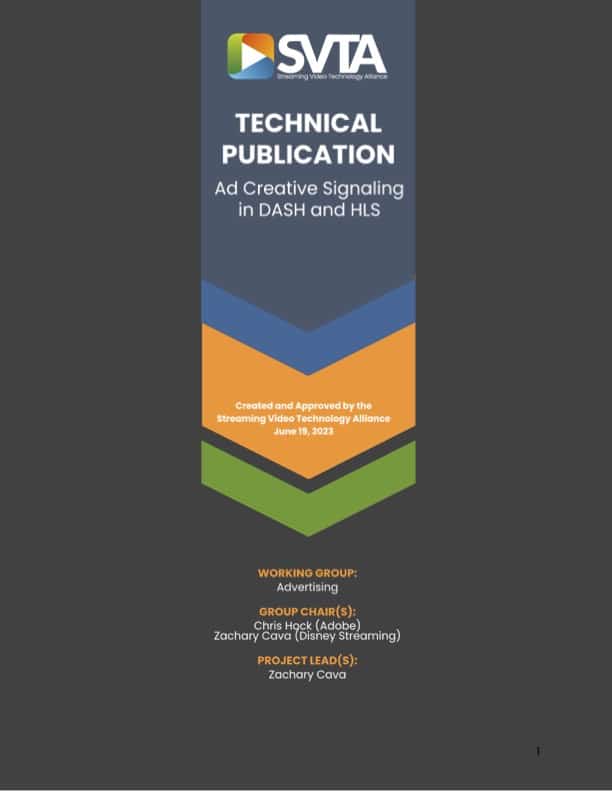 SVTA2053: Ad Creative Signaling in DASH and HLS
The two most common streaming formats for Adaptive Bitrate Streaming – Dynamic Adaptive Streaming over HTTP (DASH) and HTTP Live Streaming (HLS) – provide mechanisms for ads to be inserted into manifest files. However, there's often a challenge to properly identify the unique ad asset(s) that are embedded in a manifest. This hampers efforts to ensure delivery and monitoring accuracy. This document proposes a clear and interoperable signaling mechanism for the signaling of creative assets in DASH and HLS. It enables, for example, unique ad asset identifiers such as those from Ad-ID.org and/or unique in-house ad asset IDs to be captured in original or stitched manifest files.
Note that to download draft documents, you must be an employee of an active member company with an ARO account. If you are part of a member company and don't yet have an ARO account, you can request one here.
This group does not currently have any draft documents.